About Montessori and "Erdkinder" program
Erdkinder = a  German word meaning "children of the land"
The first stage of a child's development is from birth to six years and is known as the early childhood phase. The second phase takes place from 6 to 12 years and is called the childhood phase. The third phase of development lasts from 12 to 18 years and is the stage of adolescence. Dr. Montessori emphasizes that human development does not end at the age of eighteen. The fourth stage of development continues from 18 to 24 years and is called the adulthood phase. Each stage of development contributes to the whole personality of the adult. Since human development is a continuum, education must also be a continuum.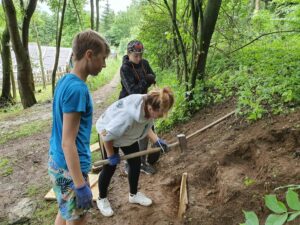 At different stages of development, a child exhibits very different characteristics and behaviors and has very different needs that are specific to a particular stage. In each phase, the child builds internal and external skills, which are preparation for entering the next phase of development. To do this, the child uses certain tools, such as human tendencies, which will allow him to reach the next level. This means that at different stages of life, children learn in different ways, and therefore education must respond to these different ways of learning. Therefore, we do not have one approach to education, but four approaches, four levels of education.
"Working on a farm does not mean that students should be obliged to work as agricultural workers." Farm work is an introduction to nature and civilization and provides an unlimited field for scientific and historical study. If the products that students create can be used commercially, it is the basic mechanism of society, the mechanism of production and exchange on which economic life is based. This means that there is an opportunity to learn academically and through real experience what the elements of real social life are. The school where the children live, the farm, can also give them the opportunity for a social experience, because it is an institution organized on a larger scale and with more freedom than the family."
Maria Montessori: From Childhood to Adolescence
In 1920, Dr. Maria Montessori first explained in a series of lectures how a farm school, or Erdkinder, meets the needs of the developing adolescent. A decade later she published these claims in From Childhood to Adolescence, the seminal work for those wanting to study the philosophy and implementation of a Montessori farm program.
In short, Dr. Montessori explained how the adolescent was ready to separate from their caregivers at home and live on a farm where they could work and study. The teenager's natural, human tendencies propelled them toward independence, increased responsibility, continued self-construction, and a newfound desire for self-expression. Their unique needs during this turbulent yet thrilling stage of development would be met on the land where they could grow into their best selves.
At Montessori Farm Senešnice, located in the beautiful Czech countryside, the environment is designed to meet the needs and tendencies of the adolescent. It is an environment prepared specially for them, where they work, learn, and thrive.
You are invited to explore this website to learn more about the Montessori educational philosophy, Dr. Montessori's vision of the Erdkinder, and MIP's new Montessori Farm Senešnice.
Welcome to the Montessori Farm Senesnice. Welcome to the new development location of Montessori School Andílek!